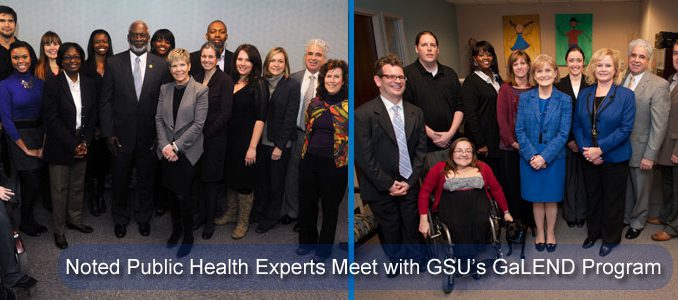 The Georgia Leadership & Education in Neurodevelopmental and related Disabilities (GaLEND) is an interdisciplinary training program for future professionals, disability advocates, and family members.
GaLEND operates as a program of the Center for Leadership in Disability (CLD) at Georgia State University (GSU), in collaboration with the Satcher Health Leadership Institute at Morehouse School of Medicine (MSM) and the National Center on Birth Defects and Developmental Disabilities of the Centers for Disease Control and Prevention. These and other community partners offer the expert faculty and resources necessary to provide exceptional interdisciplinary training and services.
The GaLEND Program is funded by a grant from the Maternal and Child Health Bureau (MCHB). "This grant will expand the capacity of practitioners in Georgia to provide quality care, to engage in evidence based practice and to forward a 21st century research agenda to support the building of Georgia's infrastructure to better respond to the unique needs of children living with autism and other disabilities," said Andrew Roach, former associate director of GaLEND.
There are now 44 LEND programs across the United States. Collectively, they form a network that addresses regional and national issues of importance to children with special health care needs, with a focus on children with autism and related disorders and their families. "The Georgia LEND program is committed to improving the care of children with disabilities and autism while reducing health disparities in underserved populations," said Daniel Crimmins, clinical professor of public health and director of Georgia LEND. "This grant will allow us to educate the next generation of leaders who will support Georgia's citizens with disabilities in living more productive, fuller lives."