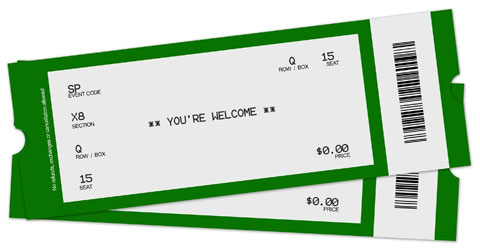 These venues host ongoing events and offer free or reduced tickets via Community Events at VSA arts of Georgia.
APEX Museum
Albany Museum of Art
Archibald Smith Plantation Home
Atlanta Botanical Gardens
Atlanta College of Art
Atlanta Cyclorama
Atlanta History Center
BellSouth Telephone Museum
Booth Western Art Museum
The Breman
Bulloch Hall
Carter Presidential Center
The Contemporary
Crawford W
Long Museum
DeKalb Historical Society Museum
Fernbank Museum of Natural History
Fernbank Science Center
Georgia Capital Building
Georgia Museum of Art
Georgia Music Hall of Fame
Gertrude Herbert Institute of Art
Governor's Mansion
Hammond House Galleries
Hapeville Depot Museum
High Museum of Art
Hudgens Center for the Arts
Imagine It! CMA
Kennesaw Civil War Museum
Madison Morgan Cultural Center
Margaret Mitchell House
Marietta/Cobb Museum of Art
Michael C
Carlos Museum
Monetary Museum
Morris Museum of Art
Museum of Arts and Sciences
National Museum of Patriotism
Oglethorpe University Museum of Art
Sidney Lanier Cottage
Southern Museum of Civil War & Locomotive History
Turner Field Tour & Ivan Allen Jr
Braves Museum and Hall of Fame
Woodrow Wilson Boyhood Home
World of Coca Cola
Wren's Nest
Zoo Atlanta
How can I get free tickets through VSA arts of Georgia?
VSA arts does not distribute tickets directly to individuals. Non-profit organizations may apply for services; approved agencies may then request tickets on behalf of their consumers or clients. Applications may be submitted throughout the year from organizations that meet the following requirements:
0. Hold documentation of 501(c)(3) designation with the federal government
0. OR Are a government agency
0. Have been operational for at least 18 months
0. Serve primarily individuals who have disablities or who are economically disadvantaged, and do not discriminate based on race, religion, sexual orientation or otherwise.
You may receive an application by faxing your request on your organization's letterhead to 404.221.1984. Once the application and all materials have been received by mail, you will be notified by mail within two to three weeks.
Each agency pays a yearly administrative fee, sliding scale, based on the budget of the agency. The fee is based solely on the budget and not on the number of tickets you use.
VSA arts of Georgia receives donated tickets to the previous page ongoing events to offer to our agencies. ONLY THE CONTACT PERSON FOR EACH AGENCY MAY MAKE TICKET REQUESTS.
Reservations for these events will be accepted with a minimum of two weeks notice and a maximum of 90 days notice (except in the spring for scheduling summer events). Reservations should be faxed to the Community Events Office on the appropriate form. Please read the ticket program guidelines thoroughly for additional information and requirements for Ongoing Events reservations and attendance.
All tickets are to be picked up at the box office NO LATER THAN 15 minutes before your reservation time, according to the instructions specified to the contact person. Telephone numbers listed are for directions or information only, NOT for ticket requests.
If you are not able to attend a scheduled event, it MUST be cancelled with VSA arts of Georgia AT LEAST 24 HOURS IN ADVANCE. On weekends and holidays, cancel directly with the venue.
For all reservations, please arrive at least 15 minutes early. Your reservation time is the starting time for the tour. Some venues will not be able to accommodate your group if you are late.
PLEASE MAKE SURE THE EVENTS YOU CHOOSE ARE APPROPRIATE FOR THE AGES and ABILITIES OF YOUR CONSUMERS.
You need to go through an agency like Georgia Community Solutions & Sevices (Carol Redman 404-634-4222 Ext 250) or your service coordinator from Babies Can't Wait, etc….
There is a form they will send you to fill in (choices of dates makes it better).
Fax form to VSA: 404-221-1984
Attention: Jan Truslow
Tel 404-221-1270 ext. 205
Hotline 404-221-1270 ext. 2
Jan Truslow will let you know if the tickets are available for your choice of events/dates. (You need to give them 2 weeks notice at least before the date you wish to attend).
For more information visit: http://vsaartsga.org/index/community_events