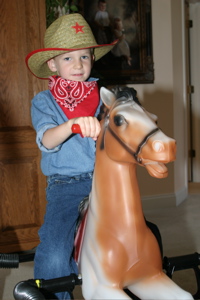 We bought this Krazy Kar when he was about 4 and he still uses it at 10. It can be used up to 80lbs. Corey loves to play bumber cars and chase his sister in it. He can also get a good spin going when he's in the mood.
We bought two of these for both kids. It took Corey sometime to figure it out but as he got older he would again chase his sister around the house with both of them on one. His sister has also been a wonderful therapy tool for him:)

Any tent can help lessen the distractions and increase focusing. Here, Kristin Hall of Kidspeech, is working with Corey in our home.

Kristin Hall, Kidspeech, was showing Corey how to blow bubbles. Bubbles are a must to have not just for therapy but a fun way for kids to play and interact with others. I have bottles from the dollar store on the shelf at all times. Kristin showed Corey how to blow his nose using bubbles. She placed the wand under her nose and blew. Out came a bubble. Then Corey tried. It took a few practices but he did it!

This has been a great toy to practice kicking the ball inside the house or outside without the worries of the house or kids getting hurt by chasing the ball out into the street.

My mom made this vest for our home use when Corey was using one at school for focusing during school work. It helped for awhile but then he became resistent at home but still used one at school.  When he grew out of this vest we switched to a fishing vest with pockets an put weights in it.
Toss Around Tic-Tac-Toe
Operation
Charades for Kids
Connect Four
Trouble
I spy
Perfection
Magnetic links
Air Hockey Table
Jump Houses
exercise balls
Tunnel
Carol Stock Kranowitz, Author of Out-of-Sync Child, suggested a simple set of miscellaneous brushes from all over the house to be available to the child at all times for their own use when needed. We keep a bucket of brushes and sponges in the bedroom. Both my kids enjoy using it several times a week.

Here's Corey when he was 2 with grandma. This rocker lasted for years and loved by all the kids. They even pushed the top down and made it into a boat. This would be great for an infant and we would still have it if it hadn't popped.

The Horse rocker lasted until Corey's 6th birthday shown here. He took awhile to learn how to use it and balance but it was great fun and he really used his full body.

My husband made this after looking at the website for a new one. This was a great Christmas gift and all the kids had fun. Corey practiced walking up and down in a safe area and then on the other side played boat while he rocked it. Four kids fit at one time and made a good group activity.

Corey is at Tender Ones Therapy and we had two of these in our home. It was a great hit for many kids and had alot of use. Good for sensory therapy and movement.

The climber lasted for years and was used in so many ways. Once 9 kids played on it with a puppet show and playhouse. We were later able to sell it for the air hockey game and still had money left over.

Wiggle seat.

Marion Viar at Tender Ones Therapy always finds fun, new ways to get Corey to exercise and stretch. This is one that can be done at home too with the incredible hulk or other hands.

Make funny faces and pictures while getting sensory input.

Corey needed to hold onto something to walk. In this picture he's 2 years old. This was a fun way to get around as long as there were several heavy books in the cart.
Corey, when he was around 6.
Here's Noreen Scott from Tender Ones Therapy when Corey was younger and before her new office. Corey really had to work hard on this treadmill and now he goes in and plays with it. She also has a really neat kids yellow exercise bike in the background. Just image your child working out with you in your own exercise room.
This is a great adjustable chair to grow with the kids.
He did not need too many adaptations but it has a chest strap below the t-shirt for seizure protection and the belt helped with balance and toe straps to keep his feet on the pedals.
In our home, we took the idea of an expensive portable door system with a swing that was hundreds of dollars to roughly $35. We use the stationary pull up bar from Walmart found in the exercise department and a cloth traveling hammock was bought at a sporting goods store.
The hammock swing was placed in a very usable location right next to the bedroom stairs and the kitchen. The kids use the swing several times a day and friends fight over it when they come over to play. This is not just for special needs but for all kids. Even big kids as I find Mike, my husband, using it sometimes.
According to Carol Stock Kranowitz, author of The Out-of-Sync Child: Recognizing and Coping with Sensory Processing Disorder, the child should not swing for more than 20 minutes at a time for sensory input. After 20 minutes the positive effects diminish. Stop for a break and then get back on for another 20 minutes.
A single Traveling Hammock is the one we have shown in our home. Double hammocks are also available but I'm not sure if that would be too much fabric. When we purchased the traveling hammock years ago it was $15. I will let you know if I find a hammock for less. A friend recently bought a hot pink traveling hammock at Ski & Sports Outlet Store for $40. It was placed in her girl's room.
Doing the airplane or banana exercise is very hard for Corey. On the ground we struggled to get his body straight, curved back and arms lifted up all at one time but the swing was a helpful tool to guide the body and he really worked to lift his arms.
Ashley has a much easier time doing the airplane but it is still a workout for her.

Back is protected if you pull the hammock up.

Forward stretches made fun with different color balloons.

This is a back exercise we modified from our physical therapist, Katie Bannister, in the cage. Corey needs to practice going backwards with comfort for the dentist chair. Our last appointment was such a success for the first time after doing the exercises with the PT that we are doing them at home too. It also helps stetch the upper body and arms along with vestibular work.
Corey's having fun playing around swinging on his stomach.

Corey is practicing his balance while swinging forward sitting up. He also has to stretch his arms up and forward for a workout. Use any item that is motivating. Today we used balloons from his birthday party and he asked for the color to grab.

You can see how hard he is working with all his face muscles.

Laying in the swing can be very calming especially before bedtime with a favorite blankie and the lights out.

Ashley wanted to show off a bit.

The bar is rated up to 400lbs. My husband has even swung on it but it says not designed for swinging.
This lasted in the same spot for at least 10 years. Every kid coming over to play wanted to play on the swing. The stairs was the  waiting line. It can now be found in the basement and is still enjoyed by young and old alike.