Welcome and thank you for joining me on the journey to connect with others and find solutions.
Corey's diagnosis of Lissencephaly – Pachygyria made us distraught beyond words when we found on the internet only information saying his life expectancy was 20 years old. Mike, my husband, encouraged me and developed this website to reach out to the families with special needs and to especially let other parents with children who have mild Pachygyria know their child has a full life expectancy per Dr. Dobyns.
My hope is this site will bring comfort to families searching on the web for information on Pachygyria and Lissencephaly and resources to all families with special needs.
This is my family 🙂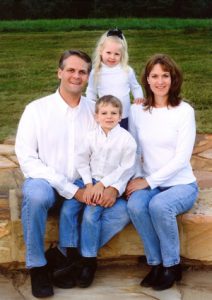 Mike, Corey, Ashley and Candice Lange family photo taken in October 2005.
Corey had just turned 7 years old and Ashley was 4 years old.